---
Egyptská arabská republika
Základní informace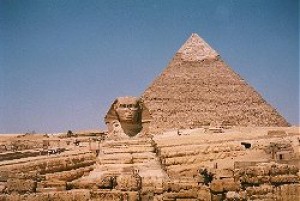 Státní zřízení: Egypt je republika v čele s prezidentem, kterého volí jednokomorové Lidové shromáždění dvoutřetinovou většinou.

Hlavní město: Hlavním a tím i největším městem je Káhira se 12 milióny obyvateli.

Státní hymna: Od roku 1971 "Biladi" (Můj domov)

Poloha: Egypt se rozkládá mezi Středozemním a Rudým mořem na pomezí Afriky a Asie.




Rozloha: 1 001 450 km2
Počet obyvatel:
69 536 644
Podnebí:
kontinentální s výkyvy teplot, subtropické
Měna:
egyptská libra EGP = 100 piastru
Úřední jazyk:
arabština
Trochu historie:
Kolem 4000 př. Kr. - V povodí Nilu vznikaly první státní útvary.

3200 - 3000 př. Kr. - Sloučily se jednotlivé státní celky v Horním a Dolním Egyptě.

1580 – 1083 př. Kr. – Nová říše. Znovusjednocení, nový rozkvět a dobývání. Moc Egypta sahala až do Palestiny, Sýrie a Núbie, sílila politická moc kněží.

332 př. Kr. – Alexandr Veliký dobyl Egypt a připojil jej ke své říši.

639 - 641 - Egypt dobyli Arabové.

1798 - Egypta se zmocnil Napoleon Bonaparte.

1869 – Otevřen Suezský průplav.

1945 - Egypt se stal členem Ligy arabských států a OSN.
18. 6. 1953 – Zrušena monarchie, vyhlášena Egyptská republika.

7. 11. 1997 - Největší teroristický útok islamských extremistů od roku 1992 v Luxoru: zahynulo 68 lidí, z toho 58 zahraničních turistů.
Zajímavosti:
Měření času - Egypťané měřily pomocí "vodních hodin". To byla jakási kuželovitá nádoba se značkami na vnitřní straně. Voda vytékala otvorem na dně, který byl pečlivě vyměřen. Jak hladina vody klesala, odhalovala značky, podle kterých se určoval čas.
Letopočet - Egypťané počítali roky od nástupu svého krále, to znamená, že když nastoupil nový král, začal 1 nový rok.
Dny - Egypťané jako první národ na světě rozdělili den na 24 hodin, z toho bylo 12 hodin denních a 12 nočních. Věřily, že některé dny jsou šťastné a některé zase špatné, to usuzovali z událostí ze života bohů. Ve špatných dnech se doporučovalo nosit hodně amuletů a dávat si větší pozor.
Královská koruna - Královská koruna se skládala z Bílé koruny Dolního Egypta a Červené koruny Horního Egypta, tato koruna se nazývala "spojená" a to proto, že Egypt byl sjednocen.
Památky:
Pyramidy:. Na levém břehu Nilu mezi vesnicemi Abú Rawáš a Médúm se nacházejí zbytky 80 pyramid. Některé jsou téměř neviditelné, zničené, vyloupené a pokryté pískem. Jiné se ještě tyčí k nebi, aby připomínaly moc i výjimečnost starověké egyptské civilizace. Za nejmohutnější náhrobky na světě se řadí tři pyramidy v Gíze. Největší Cheopsovu, která je vysoká 138 metrů (původně dokonce 147 metrů), nechal postavit faraón Chufev(Cheops). Dnes je přístupná pouze 40 turistům denně. Ve vzdálenosti asi 160 metrů od Cheopsovy pyramidy se tyčí Chefrénova pyramida. Je vysoká 136,60 metru. Na špičce je vidět zbytek původního povrchu. O 200 metrů dál od Chefrénovy pyramidy leží Mykerinosova pyramida. Je 62 metrů vysoká.
Náhledy fotografií ze složky Egypt